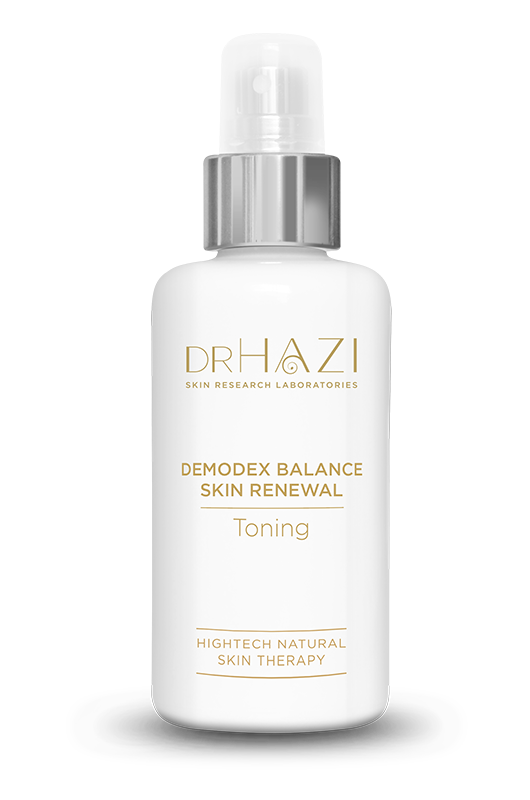 Demodex Balance Skin Renewal Toning
---
Skin regenerating, moisturizing toning with strong antimicrobial effect, which completes the effect of the oil serum. Helps to restore the natural skin flora, and the skin protective capability against pathogens will be strengthened.
PROFILE
Deuterium - depleted water 25 ppm (DAW) - water with reduced deuterium content 25 ppm - " water of life " - According to results of recently conducted studies is increased by continuous consumption of deuterium - depleted water (DAW), the resistance of the organism. Despite this significant occurrence of naturally occurring deuterium his role was first explored in biological systems by the biologist Dr. Gábor Somlyai. The research in the last twenty years has confirmed the special role of the naturally occurring deuterium in the regulation of biochemical processes of cells. The preclinical and clinical observations have the positive effect.
Lactobacillus Ferment - helps the natural flora of the skin regenerate and thereby develop their own defenses against harmful microbes.
100 % NATURAL, BIOACTIVE SUBSTANCES
Peppermint water (deuterium reduced water) - Panthenol - Bio glycerol - Sorbitol - Urea - Collagen protein - Tea Tree Oil - Peppermint oil - Vegetable emulsifier - Organic Neem oil - Karanja oil - Chaulmogra oil - Allantoin - Bio Totarol - Lactic acid
Natural essential oils
chamomile oil
Fragrance
natural fragrance, gentle fragrance
Packaging
200 ml