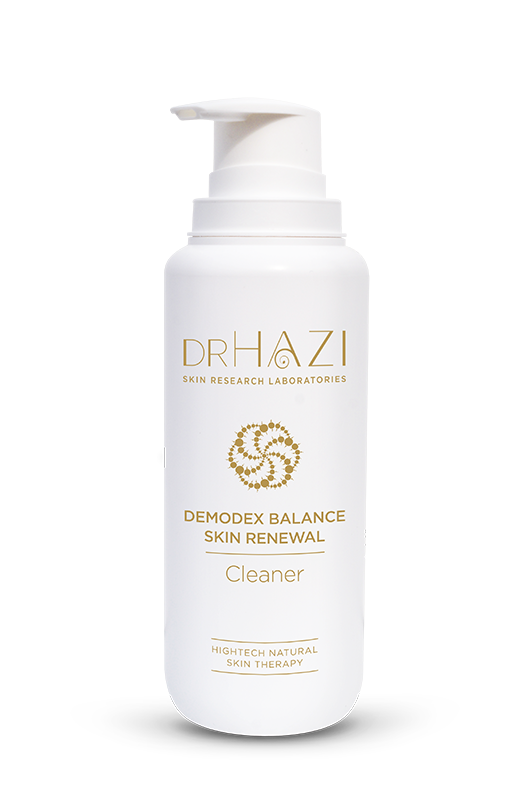 Demodex Balance Skin Renewal Cleaner
---
Skin care for the skin with acne, rosacea, and dermatitis diseases. It contains antimicrobial, fungicides and miticides oils, is antiseptic and astringent, has anti-inflammatory herbal ingredients.
This wash gel cleanses the skin in a very gentle manner. The black soap contained contributes to a thorough, deep pore, while gentle cleansing of the skin and acts simultaneously calming effect on inflammation .
The gel contains highly effective active ingredients such Ichthyol and active herbs that act horn expectorant and antiseptic.
PROFILE

100 % traditional African black soap - is one of the healthiest soaps ever
Organic rosemary hydrosols - cleanses and smooths the skin, stimulates microcirculation
Organic Totarol - gentle and non-irritating antibacterial ingredient ( acne proprionumbacterium also particularly sensitive to this extract ), antiviral effect, antioxidant
100 % NATURAL, BIOACTIVE SUBSTANCES

Black Soap from Ghana - Peppermint water, Rosemary water (from deuterium reduced water) - Neem oil - Karanja oil - Vegetable emulsifier - Vegetable surfactants - Glycerol - Sorbitol - Ichtyol - Pure salt - Tea Tree Oil - Peppermint oil - Rosemary oil - Xanthan - Lactic acid - Bio Totarol
Natural Essential Oil
Tea tree oil, Organic rosemary oil
Fragrance
natural, fresh