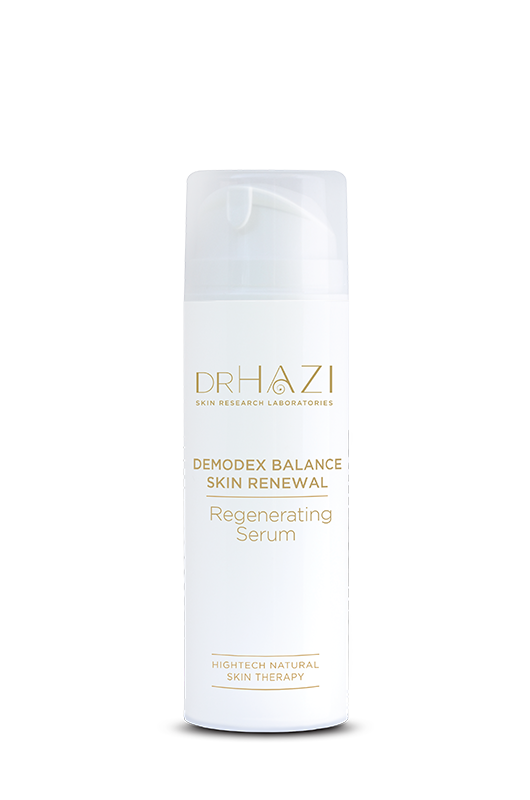 Demodex Balance Skin Renewal Regenerating Serum
---
This rich, oil-free intensive care gives the sensitive and irritated skin immediately resistance force to external stimuli. The innovative biotechnological active ingredients build the self-protection of the skin and restore the natural barrier structure.
PROFILE
Deuterium - depleted water 25 ppm (DAW) - water with reduced deuterium content 25 ppm - "water of life" - According to results of recently conducted studies is increased by continuous consumption of deuterium - depleted water (DAW), the resistance of the organism. Despite this significant occurrence of naturally occurring deuterium his role was first explored in biological systems by the biologist Dr. Gábor Somlyai. The research in the last twenty years has confirmed the special role of the naturally occurring deuterium in the regulation of biochemical processes of cells. The preclinical and clinical observations have the positive effect.

Free of allergenic ingredients such as essential oils and medicinal plant extracts.

BIOACTIVE - HIGHTECH MAIN INGREDIENTS

Deuterium - depleted water 25 ppm (DAW) - ceramide complex - Glikan booster peptide (skin matrix structure Strengthening plants peptide) - Urea - panthenol - tripeptide 5 (collagene booster plants peptide) - L-proline - teprenone (cell renewal) - Stable Vitamin C - hyaluronic acid (3X) - ferulic acid - allantoin - Lactobacillus ferment - liposome complex
Natural essential oils: No
Fragrance: natural fragrance, gentle fragrance