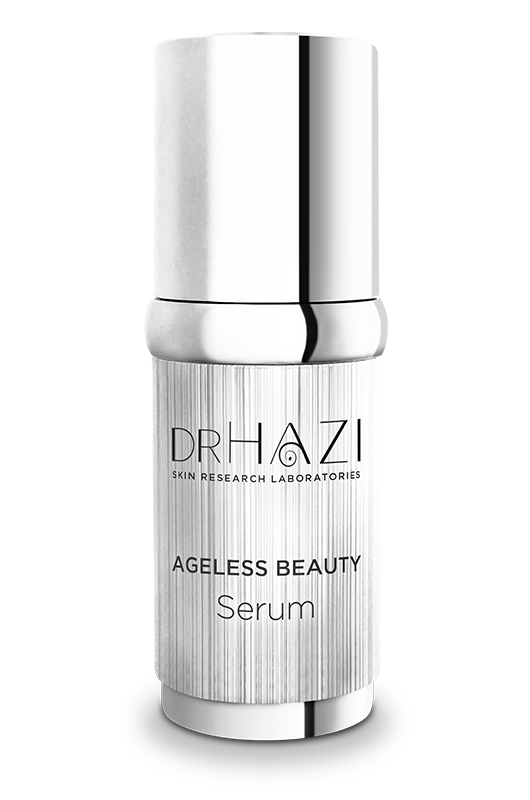 Ageless Beauty Serum
---
An intensive, oil-free beauty serum with a composition identical to the skin. The plant-based ingredients identical to the skin act like a kind of "liquid skin", providing an instant lifting, anti-wrinkle effect. It contains a complex blend of modern nanopeptides active on the cellular level in a liposomal formulation, which are capable restructuring the skin and optimizing skin functions. Suitable for the care of all skin types.
A particularly high concentration of boosting peptides like argireline and matrixyl rebuilds the active matrix of the skin and thereby dramatically rejuvenates the complexion. A natural ceramide complex additionally strengthens the barrier function of the skin. Furthermore the collagen production gets stimulated by tripeptides and hyaluronic acid, while at the same time preventing the skin from drying out.
100% natural treasure for skin care, thanks to the incredible powers of nature. This product offers the perfect solution for an immediate anti-aging effect: the natural alternative to surgical lifting.
Every type of skin rejuvenation care is excellent.
PROFILE

Rose water, made of deuterium reduced water - refreshes and moisturizes the facial skin

BIOACTIVE INGREDIENTS

Argirelin 5% (FACIAL MUSCLE RELAXING PLANT PEPTIDE) - Urea - Ceramide Complex (Ceramide 3, Ceramide 6, Ceramide 1, Phitosphingosine, Cholesterol) - Matrixyl 6 (CELL REJUVENATING PLANTS PEPTIDE) - Glycan Booster Peptide (SKIN MATRIX STRUCTURE STRENGHTENING PLANTS PEPTIDE) - Stable Vitamin C - Ferulic acid - Tripeptide 5 (COLLAGENE BOOSTER PLANTS PEPTIDE) - Vitamin E - L-proline - Hyaluronic acid (4 types) - Organic Totarol
Nanopeptid therapy

Nanopeptides consisting of up to 4-5 amino acids extracted from targeted plant sources represent a new age of innovative active agent manufacturing. These short plant-based peptides are programming signal molecules which solely effect the function of targeted cells in a precisely determined manner. Thanks to nanotechnology, the molecules are protected from protein degrading enzymes which also make absorption more effective, thus initiating revitalization on the cellular level.

Natural essential oils
Organic palmarosa oil, Damask rose oil
Fragrance
Natural fragrance, natural scent of roses