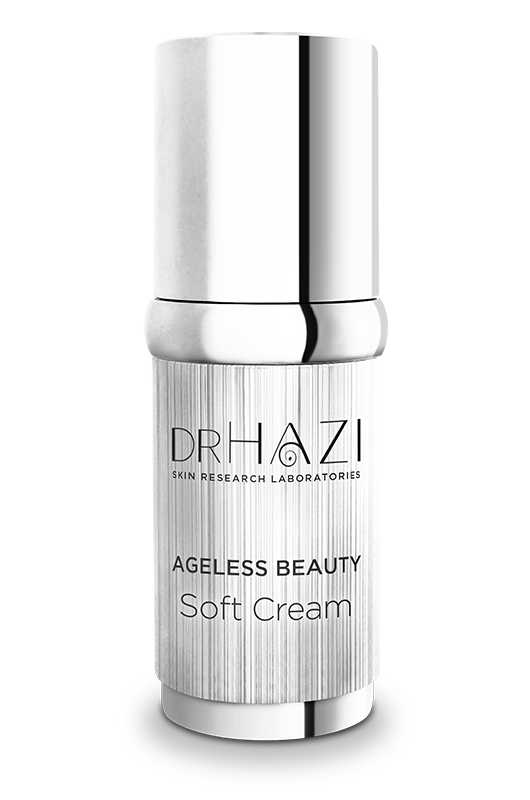 Ageless BEAUTY Soft CREAM
---
An intensive replenishing facial cream with a composition identical to the skin. It provides the perfect solution for an instant and spectacular anti-aging effect with ingredients which intensely regenerate the tissues and lend a noticeably smoother surface for the skin. It contains a blend of modern nano peptides, which restructures the skin on the cellular level and optimizes the skin functions. The hydrating cream containing maximum levels of active agents is suitable for the care of all skin types. Recommended when using facial cream with light oils for daily hydration purposes. SPF15+, PPD10
This anti-aging cream moisturizes the skin and reduces expression lines. Through its natural ingredients like plant oils it regenerates and protects the skin from free radicals. It makes the skin look visibly rejuvenated and polished. The light scent of damask rose creates a luxurious care experience. Contains a mineral-plant sunscreen that protects the skin from solar radiation. SPF15+, PPD10
100% natural treasure for skin care, thanks to the incredible powers of nature.
It is suited for all skin types for treatment rejuvenating.
52 kinds of intense rejuvenating active agents, 12 kinds of nanopeptides
BASE PROFILE

Rose Water - refreshes and moisturizes the face
Organic Shea Butter - with skin-softening, skin-care and skin-smoothing properties
Organic Peach Kernel Oil - skin-care, skin-softening properties
Organic Macadamia Oil - smoothes the skin, making it soft and supple

BIOACTIVE - HIGHTECH INGREDIENTS

AROMATHERAPY - HERBAL THERAPY - NANOPEPTID THERAPY
Coenzyme Q10 - L-proline - Stable Vitamin C - Urea - Lecithin - Vitamin E - Urea - Allantoin - Liposome komplex - Bio Totarol
It contains a maximum dose of a complex blend of modern (mimicry muscle-loosening, collagen-stimulating and skin matrix assembling) nanopeptides active on the cellular level.
Nanopeptid therapy

Nanopeptides consisting of up to 4-5 amino acids extracted from targeted plant sources represent a new age of innovative active agent manufacturing. These short plant-based peptides are programming signal molecules which solely effect the function of targeted cells in a precisely determined manner. Thanks to nanotechnology, the molecules are protected from protein degrading enzymes which also make absorption more effective, thus initiating revitalization on the cellular level.
MIMIC MUSCLE RELAXING NANOPEPTID COMPLEX - efficient mixture of 3 nanopeptid (Argirelin, Skin ake, Leuphasyl) that will dissolve the facial muscle tension so intense anti-wrinkle effect.
SKIN MATRIX BUILDING NANOPEPTID COMPLEX - 5 types of nanopeptides (Matrixyl, Matrixyl 3000 (2), Collaxyl, Syn-Coll) strengthen skin and connective tissue support, stimulate collagen and elastin production, inspire cell renewal.
CELL REJUVENATING NANOPEPTID COMPLEX - (Juveleven, Chronogen) protect and renew the skin cells, protects the skin from UV damage DNA level.
INFLAMMATORY NANOPEPTID COMPLEX - 2 kinds of nanopeptides (Telangin, Delisens) strengthen skin, enhance skin's natural UV protection

Natural essential oils
Organic Palmarosa oil, Rosewood oil
Fragrance
natural fragrance, natural scent of roses