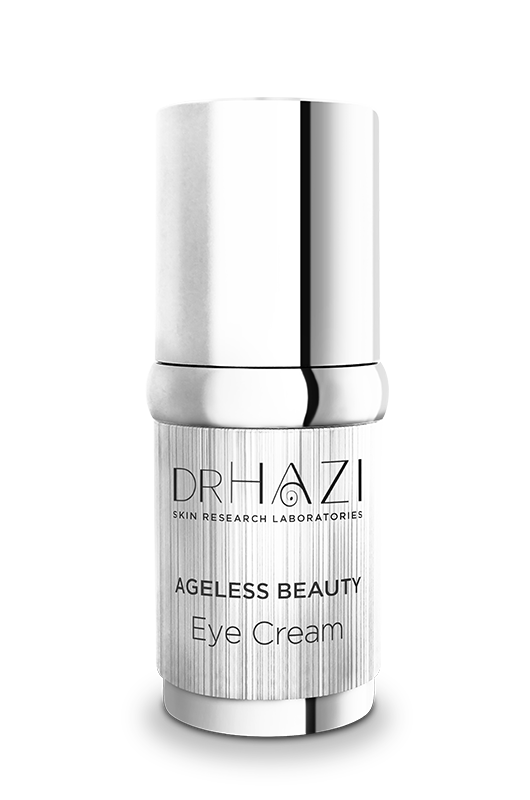 Ageless Beauty Eye Cream
---
A quickly absorbed cream with a high active agent content, which is still soft and pliable.
This anti-aging eye cream gently moisturizes the sensitive skin around the eyes. Highly active ingredients effectively act against the first signs of aging. In addition to providing deep nourishment, the cream densifies the skin around the eyes and lips.
It contains acmella extract and natural peptides that visibly smooth the skin's surface by stimulating fibroblast biomechanical functions and helping to restructure the complexion.

It is suited for all skin types. The cream can be used as day and night care. Also great for contact lens wearers.
---
PROFILE

Rose water made of deuterium reduced water - refreshes and moisturizes the facial skin
Organic jojoba oil - absorbs quickly, makes the skin soft
Arganic argan oil - protects the skin from drying out, stimulates cell regeneration, soothes irritated skin
Organic wheatgerm oil - improves skin elasticity and reduces water loss

BIOACTIVE - HIGHTECH INGREDIENTS

Acmella extract - Glycan Booster Peptid (SKIN MATRIX STRUCTURE STRENGHTENING PLANT PEPTIDE) - Argirelin 5% (MIMETIC MUSCLE RELAXING PLANT PEPTIDE) - Lacto ceramide - Skin Smoothing Dipeptide (COLLAGEN BOOSTER PLANT PEPTIDE) - Beta Glucan - Vitamin E - Vitamin C Stable - Ferulic acid - Liposome complex - Organic Totarol
Natural essential oils
Organic palmarosa oil, Rosewood oil
Fragrance
natural fragrance, natural scent of roses