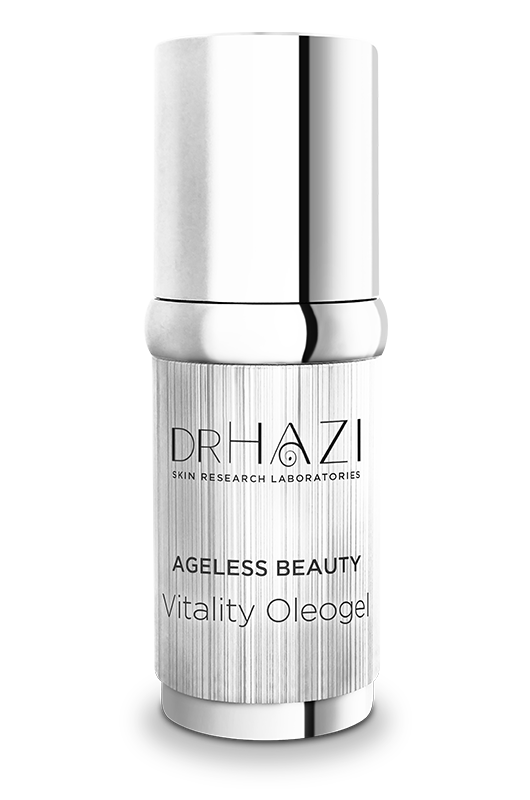 AGELESS BEAUTY Vitality Oleogel
---
A unique mixture of the world's cosmetically valuable basic and active agent oils and fat-soluble active agents, which deeply and lastingly replenish the skin.The rich and nourishing concentrated oleogel helps replenish the skin's dermis, reusing in a replenished, smooth skin surface. It doesn't clog the pores as it has a no-comedogen oil composition.
This vitality oil serum is rich in active ingredients, which promote skin rejuvenation. Through its natural ingredients and high vitamin content it intensively restructures the skin. The combination of evening primrose oil, argan oil, currant oil, hemp seed oil and wild rose oil provides vitality and elasticity to the skin. Furthermore the acmella extract visibly smoothes out expression lines by stimulating fibroblasts biomechanical functions. This oil serum was specifically developed to apply over.
100% natural treasure for skin care, thanks to the incredible powers of nature.
Night care for all skin types is excellent.
PROFILE

Organic Macadamia oil - smoothes the skin, making it soft and supple
Organic Argan oil - stimulates cell regeneration, soothes irritated skin
Organic Wheat Germ oil - nourishes mature, sallow, badly circulated skin
Currant seed oil - has soothing, anti-inflammatory, astringent properties
Organic Pomegranate seed oil - improved skin elasticity
Organic Rosehip oil - keeps the vitality and elasticity
Acmella extract - reduces the intensity of muscle contraction, which relaxes expression lines
BIOACTIVE - HIGHTECH INGREDIENTS

Acmella Extract - Pomegranate seed oil - 2% Vitamin A - Vitamin E 1% - 1% Stable Vitamin C
Natural essential oils
Carrot oil, Labdanum oil and Rosewood oil
Fragrance
natural fragrance, gentle herbal scent