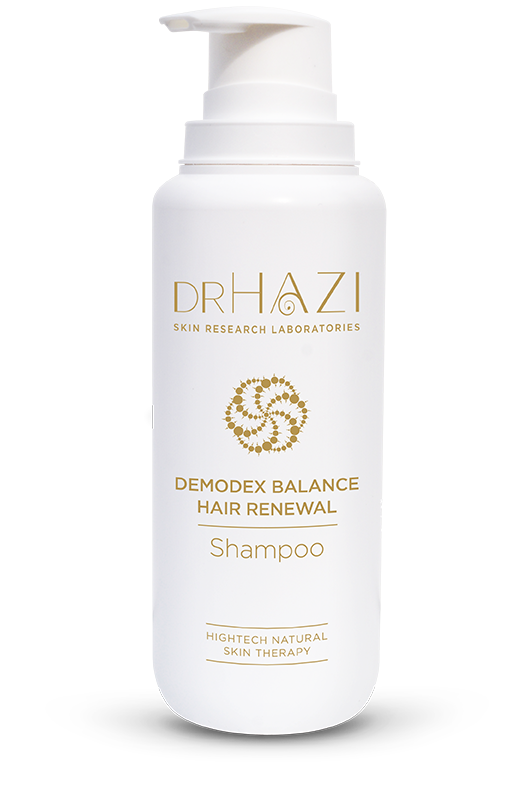 Demodex Balance Hair Renewal Shampoo
---
The DRHAZI Crystal-biotechnology anti-aging and hair growth shampoo is a combination of traditional plant extracts with the latest biotechnological active agents obtained through scientific methods. The effect of the finely compiled ingredients is complemented by hair renewal, hair growth, antimicrobial, anti-inflammatory and porenadstringierende plant substances. Significantly strengthens the hair bulb and hair anchorage system.
It is recommendable to begin an anti hair loss treatment that will regenerate the hair. The HAIR RENEWAL range, which consists of Hair Renewal Crystal Shampoo and Hair Renewal Crystal Serum, protects and repairs the various different structures of the hair follicle, delaying its ageing and therefore its loss.
PROFILE

Bio Neem Oil - For people harmless, not comedogenic oil - but more than 200 species of insect it is lethal, because it can damage their hormone systems. Has also antimicrobial, antibacterial and fungicidal effect. There are more than 150 ingredients have been identified , of which have proven effective in numerous laboratory tests . Active ingredients: Azadirachtin, Salannin, Salannol, Meliantriol, Nimbin , Azadirachtol, Tokoferol, Vepinin) It is an excellent moisturizing agent, has a high vitamin E content, rich in skin nourishing substances and fatty acids , by the use feels dry, chapped , cracked and damaged skin again silky. May only be used externally .

Bio Karanja Oil - It has a similar effect as the neem oil (antimicrobial, antibacterial, fungicidal) can also be used internally (anthelmintics and effective against malaria and leprosy) as insect and microbe killer. Its main active ingredient is the Karanjan. A common use of neem oil enhanced the joint action.

Ichtiol - is a proven anti-dandruff agent is recovered from sulfur-rich oil shale, has excellent tallowfunction-regulation and wound healing properties.

Bio Totarol - Excellent active against gram-positive and gram-negative bacteria, also features excellent antioxidant properties.
Vegetable keratin, hydrolyzed - builds up in the injured or stressed hair, the hair will be again silky, shiny, lush and healthy.
100 % NATURAL, BIOACTIVE SUBSTANCES

Rosemary water (with deuterium - reduced water ) - Colloid Crystal Complex (Cooper, Silver, Gold, Iridium, Platinum, Silica) - Pure Squalane from olives - Organic Neem oil - Karanja oil - Moisturizing Factor (Sorbitol, Organic Glycerin, Sodium PCA) - Niacinamide, Vitamin B5 - Panthenol - Hydrolyzed keratin - Allantoin - Caffeine - Pure salt - Tea Tree oil - Rosemary oil - Organic Totarol - Xanthan gum - Lactic acid
Crystal Therapy

The colloidal dissolution of metals is use to prepare organic colloid crystal active agents, which are capable of energizing, vitalizing and normalizing the function of cells on a cellular level. Dissolved on the atomic level, metals are water soluble and maintain a stable dissolved state. As they are not ionized and create no salts, they're capable of establishing special crystal structures with the water. The specialty of true colloids lies in that 100% of metals, in the form of metallic particles, have a size that allows them to take part in cellular metabolism, enzymatic processes or even on the level of DNA. SILVER - GOLD - PLATINUM - IRIDIUM - COPPER - SILICA
Natural Essential Oil
Tea tree oil , Rosemary oil, Benzoi
Fragrance
Natural, herbal with