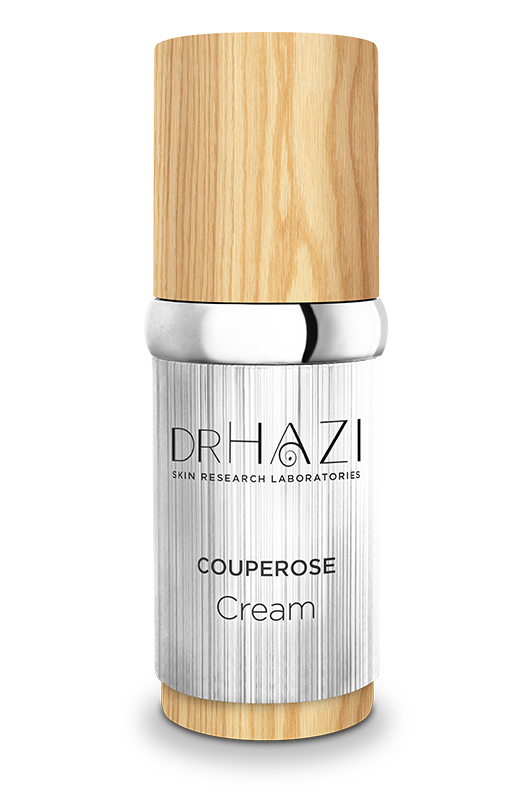 Couperose Cream
---
Herbal extracts particularly rich, soft cream. In everyday use perfect care and protection. Components of synergistic strengthen their influence in the walls of blood vessels, reduce redness, improve circulation, reduce skin sensitivity and effectively soothe the epidermis. A special cream for the treatment of all skin types, especially for dry, sensitive, reddened skin of the face. SPF15+, PPD10
This cream was specifically developed for the treatment of couperose skin (type I). It contains ingredients that strengthen the walls of blood vessels, reduce the redness of the skin, improve circulation, reduce sensitivity and effectively sooth the epidermis. It contains natural oils that nourish the skin and protect it against harm from the environment. A connective tissue amplifier stimulates collagen and water retention and helps to rejuvenate the skin making it feel silky smooth and hydrated while bringing back its natural complexion.
Contains a mineral-plant sunscreen that protects the skin from solar radiation. SPF15 +, PPD10
The result is a healthy glowing complexion and a natural, soft and velvety skin. Special Creme Couperose is suitable for all skin types.
PROFILE

Organic Immortelle hydrolates - regenerates and soothes irritated skin
Organic grape seed oil - contains many flavonoids, vitamin C, vitamin A, vitamin B
Organic sea buckthorn seed oil - with soothing, anti-inflammatory, wound-healing properties
BIOACTIVE - HIGHTECH INGREDIENTS

Madecassosid (Tiger grass extract) - Resveratrol bioferment - Glycoaminoglican - Glycine Soja-Protein - Bisabolol - Niacinamide (Vitamin B3) - Stable Vitamin C - Vitamin E - Allantoin - Liposom complex - Bio Totarol
Natural essential oils
Guaiac oil, Organic palmarosa, Myrrh oil
Fragrance
natural scent, mild floral scent