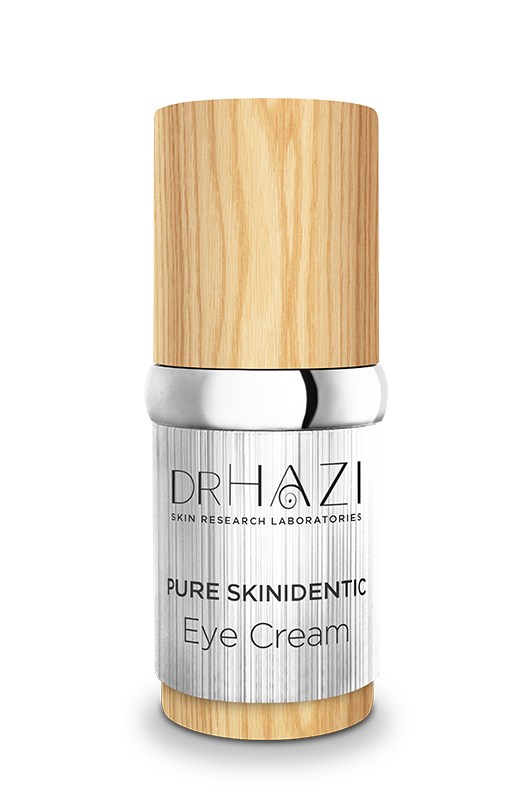 Pure Skinidentic Eye Cream
---
A soft, pliable, quickly absorbed hypoallergenic nourishing cream with a maximum active agent content. It gently nourishes the thin skin layer around the eyes, prone to irritation. Its innovative active agents instantly and noticeably smooth the skin's surface and remove crow's feet from around the eyes and mouth. All the ingredients of the cream have a beneficial effect, even for extra sensitive skin.
This eye cream contains natural oils that nourish and densify the skin around the eyes. Its natural skin-identical, biotechnological active ingredients help rebuild the skin's texture and visibly smooth out its surface. The cream rejuvenates, and nourishes the skin while protecting it against harm from the environment. The self-healing powers of the skin get activated and its natural barrier gets strengthened.
The mild Eye Care has been specially developed for the particularly delicate eye area. The innovative biotechnological active ingredients help the skin to reorganize the skin structure. Innovative active ingredients stimulate collagen booster and harmful effects of free radicals are visible fights.

The cream is free of possibly allergenic ingredients such as essential oils and is therefore especially suitable for dehydrated skin that is prone to neurodermatitis or allergies.
PROFILE
Organic Shea butter - with skin-softening, skin-care and skin-smoothing properties
Organic Macadamia oil - smoothes the skin, making it soft and supple

Organic Jojoba oil - provides protection against UV rays, it keeps our skin especially soft

Organic Avocado oil - skin care, wound healing, skin-softening properties

Organic Pomegranate seed oil - improves skin elasticity and reduces the dehydra
BIOACTIVE - HIGHTECH INGREDIENTS
Pomegranate seed oil - Urea - Lacto ceramide - Ceramide Complex - L-proline - Hyaluronic acid (3 types) - Stable vitamin C - Vitamin A 1% - Urea - Allantoin - Ferulic acid - Vitamin E - Liposom comlpex - Bio Totarol