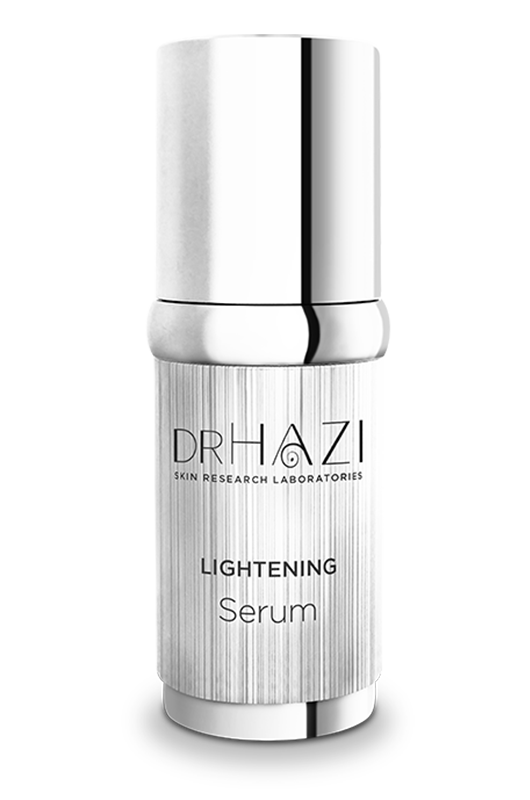 Lightening Serum
---
A quickly absorbed serum containing precious nanopeptides.
A quickly absorbed serum containing precious nanopeptides. Its concentrated active agents regulate the melanin synthesis of the skin, making existing pigment spots fainter, regenerating and rejuvenating the skin. Highly suitable for all skin types.
---
Ingredients
Deuterium reduced water - Pigment bleaching peptide - Skin matrix-building herbal peptide complex - Peptides for cell rejuvenation - Peptides for the stimulation of collagen synthesis – Mimic muscle relaxing peptide complex – Liposome complex - Bio AHA complex - DRHAZI Hydrating Complex (Urea, Sodium PCA, Sorbitol, Level 4 Hialuronic Acid, Lactic Acid) - Niacinamide – Alpha Arbutin – Boldo leaf extrakt - Houseleek extract - Bearberry extract - Ivy extract - Ruscus extract - Tomato extract - Crocuses extract - Tiger Grass extract - Sage extract – Benzoe oil - Chamomile oil - Lactic acid - Stable Stable vitamin C - Allantoin - Totarol - Xanthan gum - vitamin E
---
How to use
After preliminary cleansing, apply a few drops of the serum slightly moistened with water for skin area to be treated and gently massage the skin in a circular movements and let it work. After a few minutes to apply the right type of skin care cream.