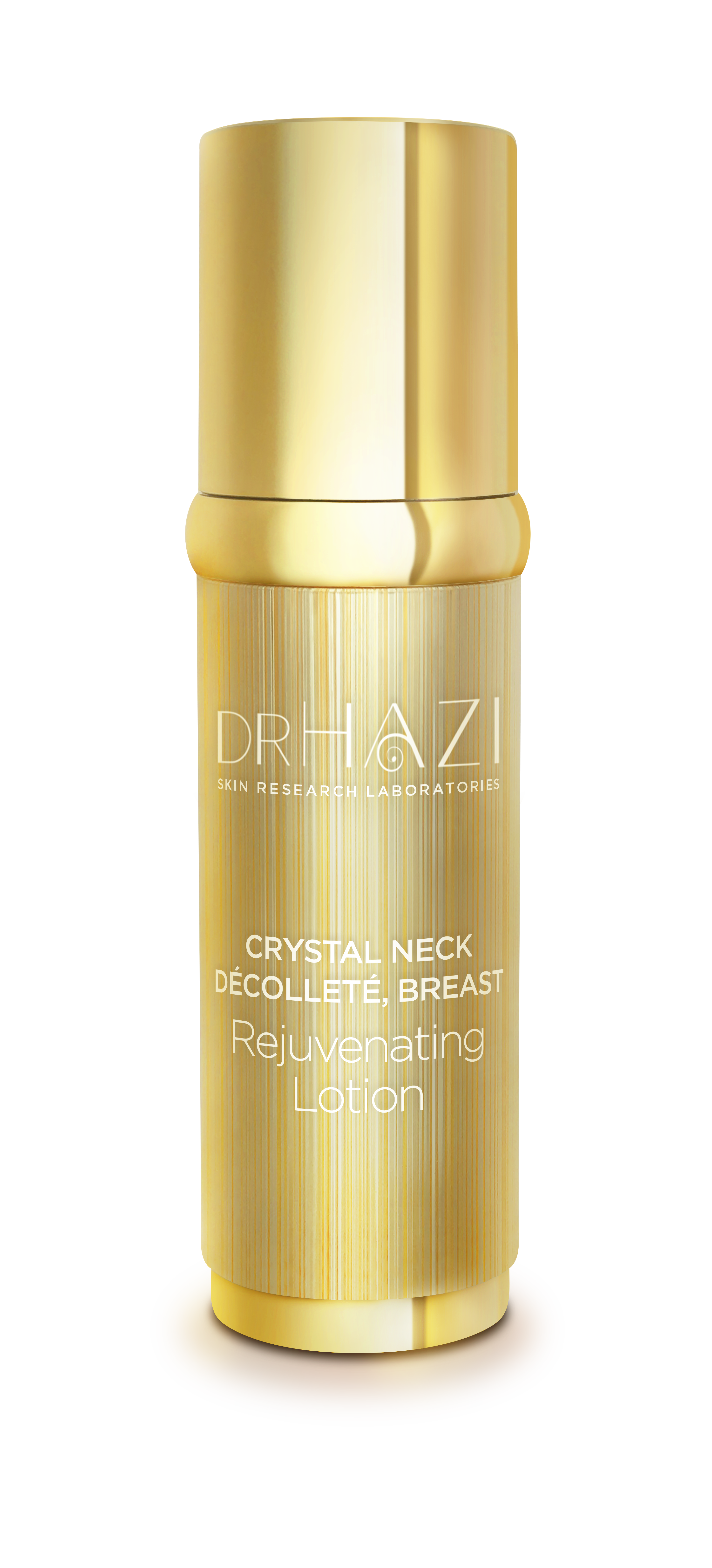 Crystal Neck, Décolleté, Breast Rejuvenating Lotion
---
A luxuriously intensive skin-rejuvenating replenishing body milk. Its composition identical to the skin satisfies even the greatest demands.
An intensive replenishing body milk with a composition identical to the skin. It provides the perfect solution for an instant and spectacular anti-aging effect with ingredients which intensely regenerate the tissues and lend a noticeably smoother surface for the skin. The safe natural ingredients ensure an instant replenishing, regenerative effect.
Strengthens the skin
Smooths wrinkles, softens
Loss of firmness and elasticity
It is suited for all skin types for treatment rejuvenating.
100% natural treasure for skin care, thanks to the incredible powers of nature.
---
BIOACTIVE - HIGHTECH INGREDIENTS

AROMATHERAPY - HERBAL THERAPY - NANOPEPTIDE THERAPY - CRYSTAL THERAPY
Liposome Complex - Bio Totarol - Collagen Protein - Coffein - DRHAZI Moisturizing complex (Urea, Sodium PCA, Level-4 Hyaluron acid)
Nanopeptide therapy

Nanopeptides consisting of up to 4-5 amino acids extracted from targeted plant sources represent a new age of innovative active agent manufacturing. These short plant-based peptides are programming signal molecules which solely effect the function of targeted cells in a precisely determined manner. Thanks to nanotechnology, the molecules are protected from protein degrading enzymes which also make absorption more effective, thus initiating revitalization on the cellular level.
Crystal Therapy

The colloidal dissolution of metals is use to prepare organic colloid crystal active agents, which are capable of energizing, vitalizing and normalizing the function of cells on a cellular level. Dissolved on the atomic level, metals are water soluble and maintain a stable dissolved state. As they are not ionized and create no salts, they're capable of establishing special crystal structures with the water. The specialty of true colloids lies in that 100% of metals, in the form of metallic particles, have a size that allows them to take part in cellular metabolism, enzymatic processes or even on the level of DNA. SILVER - GOLD - PLATINUM - IRIDIUM - COPPER - SILICA

Natural essential oils
Rose oil, Orange oil, Clary oil, Cinnamon Oil, Ginger oil
Fragrance
natural fragrance, natural scent of roses
Packaging
100 ml